Description
VigorAP 912C is a ceiling-mount Wi-Fi for business networks. It has a capacity of up to 256 concurrent active users, ideal for a high-density environment such as a BYOD workplace. The low-profile appearance and PoE power supply provide the flexibility in deployment.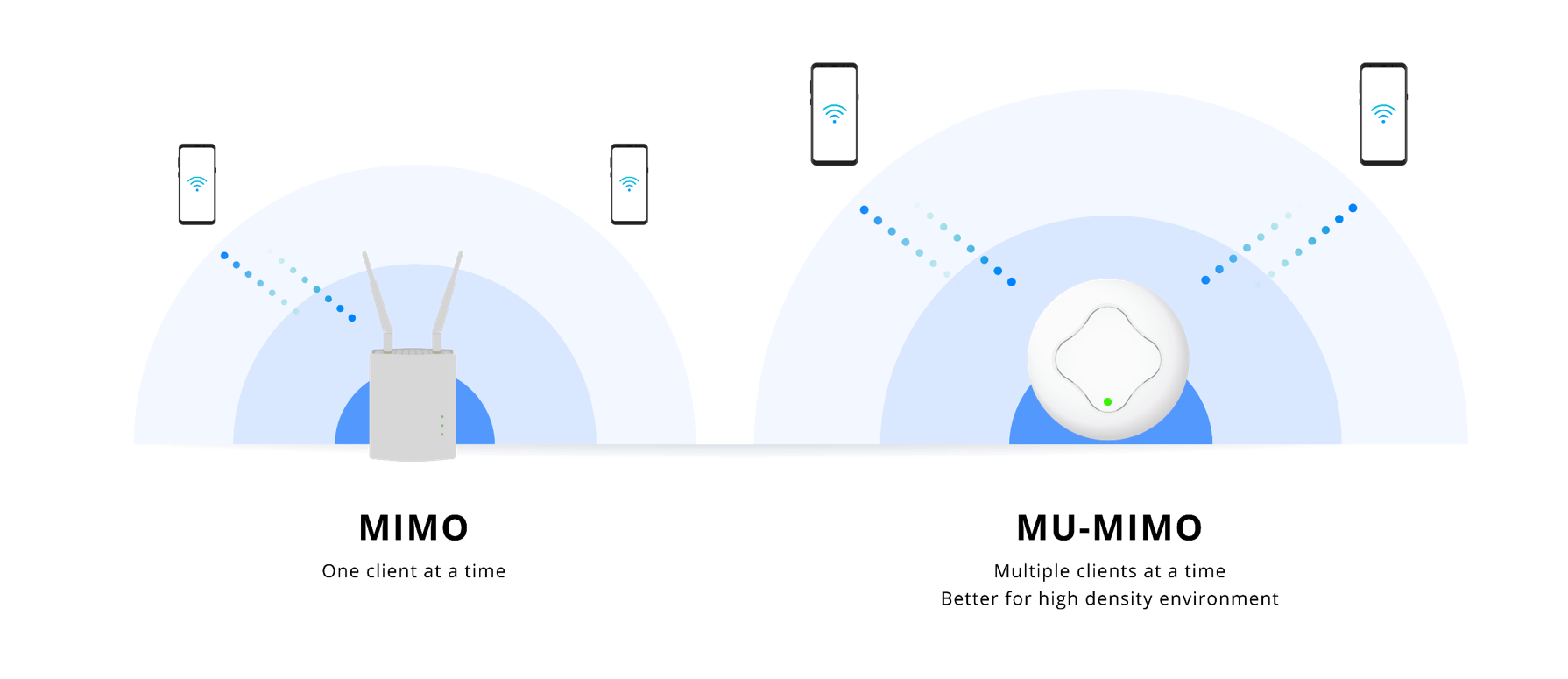 Ceiling Mesh Wireless 802.11ac Range Extender & Access Point
VigorAP 912C is a high-performance dual 802.11ac Wave 2 band Mesh Wireless solution, designed to expand wireless coverage, eliminate Wi-Fi dead zones, slow download speeds and poor signals plus significantly reduce the cost of network deployments. It can also be used as a traditional access point either managed or stand alone so has the flexibility to be used how you need it. One access point acts as the controller (Mesh root) and in total up to 8 access points create an easy to manage wireless networks and extend coverage without running expensive cabling.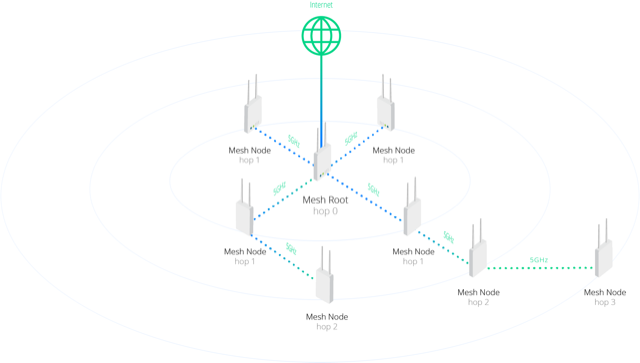 Initial setup of the VigorAP 912C is easy with the DrayTek Wireless app, whether it's creating a new Mesh network or being set up in AP and Range Extender modes, the Quick Start Wizard assists throughout.
Manage the VigorAP 912C centrally through the VigorACS central management platform, VigorConnect, Router AP Management, or simply on its own as a stand-alone access point. The VigorAP 912C has the flexibility to be used how you need it.
Power-Over-Ethernet
The VigorAP 912C has built-in PoE (Standard IEEE 802.3af Power over Ethernet) as standard. Connect the VigorAP to a PoE-enabled Ethernet switch or PoE injector to power it without local power to the unit (power supply) – the VigorAP 912C will take its power from the Ethernet cable. The VigorAP 912C supports Gigabit PoE (if you have a Gigabit PoE switch/injector) such as our VigorSwitch P1280 (or any other 802.3af/at device).
PoE is ideal for situations where you do not have mains power available in the exact location where you want to install the VigorAP 912C or just for general aesthetic neatness, perhaps where the AP is installed somewhere prominent.
The DrayTek VigorAP 912C can alternatively be powered by an AC/DC mains PSU, for installations where you are not using PoE.
Ceiling Mounting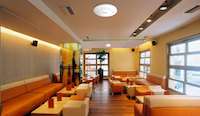 For ceiling mounting, a circular mounting plate (included with the unit) is fitted and then the VigorAP 912C is secured into place by twisting the VigorAP into the mounting plate.
For suspended ceilings, additional mounts are included to attach to ceiling T-Bars (see later), clipping securely into place.
The AP-912C is designed to be installed on ceilings in order to serve the area below it. The cables (Ethernet or Power) can reach the AP-912C from the rear or the side. For solid ceiling fixing a backplate is supplied. The backplate fixes to the ceiling and the AP-912C then clips in. Alternatively, T-Bar mounts enable quick and easy attachments to suspended ceilings (see photo below). The AP-912C can also be wall-mounted – keyhole slots on the back allowing any orientation.
Dual Band 11ac Wave 2 Access Point
The VigorAP 912C is an 802.11ac Wave 2 access point, improving performance by increasing the amount of data that can be sent at one time. 11ac Wave 2 includes Multi User MIMO (Multiple In, Multiple Out) or MU-MIMO technology, further building upon the MIMO technologies introduced with 802.11n.
The VigorAP's MU-MIMO technology when used with MU-MIMO capable wireless clients, allows each antenna (or Spatial Stream) to send to separate wireless clients, potentially doubling the data transmission rate to clients.
Significant limitations of wireless throughput are the frequency space and radio time, shared between all users. A typical wireless access point can send data to only one client at a time with its radio. With enough users connected, congestion slows down transfer speeds more & more, as the AP divides its time between each client.
Multi User MIMO allows the VigorAP to send data out to more than one wireless client at a time, splitting bandwidth between the VigorAP's Spatial Streams instead of the access point's time as a whole.
This can be particularly useful in locations with many phones, tablet and laptops connecting, where the VigorAP's more efficient transmissions could allow each access point to serve more clients than an 802.11ac Wave 1 or 802.11n access point.
Wireless Optimization
DrayTek's VigorAP access points have many features designed to improve wireless performance on your network, to ensure that every wireless client gets the best possible experience.
Wireless Security & VLANs
The VigorAP 912C features multiple levels of wireless security. Encryption using WPA2 is available and you can also use the access control list (ACL) to specify the hardware addresses of clients which are permitted to connect (by MAC hardware address). Any unauthorised hardware is refused access.
For additional user authentication, you can have the VigorAP 912C authenticate clients with an 802.1x RADIUS (Remote Authentication Dial-in User Service) server, or use its internal RADIUS server.
The VigorAP 912C supports the 802.1q VLAN protocol so that if it is connected to an 802.1q enabled LAN, it can split tagged data (whether it's different subnets or intended for different users) and broadcast each on its own SSID. This means, for example, that your guest WiFi access is provided on a separate isolated SSID with no access to your company data.
Multi-SSID over Mesh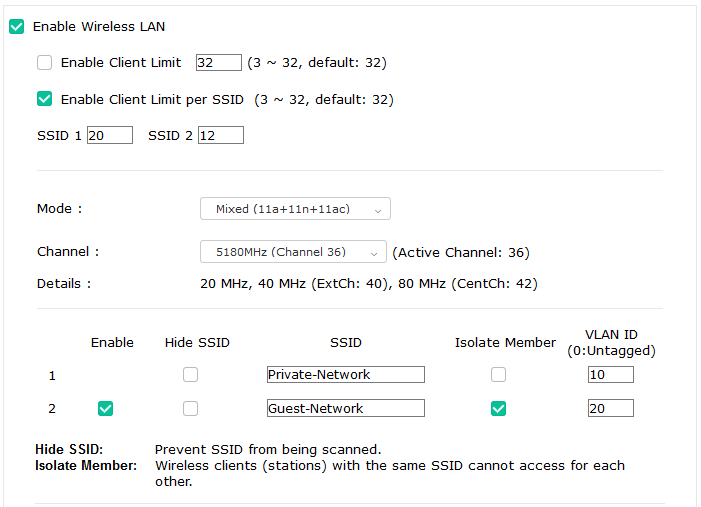 DrayTek's Mesh system supports 802.1q VLAN tagging for its multiple Wireless networks (or SSIDs), over both wireless and wired Mesh links between VigorAPs.
Each SSID provided by the Mesh network can have a VLAN tag assigned to it. VLAN tags are interpreted by the network's router and switch(es) to segregate one network from another. For instance keeping devices connecting to a guest network separate from resources on the private, internal network.
Setting up a Mesh network to work with VLANs only requires setting up the Mesh Root with the VLAN tags on its SSIDs. This change propagates to Mesh Nodes when syncing the configuration between access points and Multi-SSID over Mesh can be used just like a cabled network of access points.
AP & Repeater Modes
The VigorAP 912C can be used as a stand-alone Wireless Access Point, to provide wireless connectivity for a router or network that doesn't currently have wireless.
Central Management with DrayTek VigorACS
The DrayTek VigorAP 912C can be managed by the DrayTek VigorACS central management system – a cloud platform which can manage most DrayTek products – routers, wireless access points and Ethernet switches, giving you complete visibility and control of your DrayTek product estate, even without a DrayTek Vigor router on site.
Central Management with a DrayTek Router
The VigorAP 912C can operate in standalone autonomous mode, but can also form part of a centrally managed wireless installation by adding a compatible DrayTek wireless controller. This enables you to centrally control, manage and administer multiple AP devices installed around your building/campus. Management also enables efficient usage of your wireless access point through load-balancing, whereby wireless clients are distributed across several access points to reduce congestion.
The DrayTek router operating as the wireless controller can provision DrayTek VigorAP access points using the Central AP Management profiles configured on the router, with an option to Auto Provision – auto configuring newly installed VigorAP access points with the Auto Provisioning profile, upon initial connection to the DrayTek Vigor router's network.